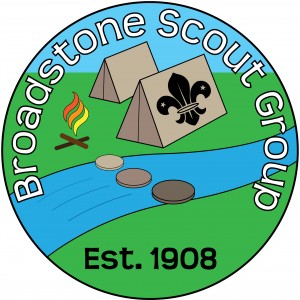 Last year, Broadstone Scout Troop came up with some designs for a Group Logo. The idea was to try and incorporate what we do in Scouts with the history of our area. Several designs were submitted and combined into what you see above.
The Scouts have shown Scout Camping (one of our main activities) alongside a stream (the Blackwater Stream) with some Broad Stepping Stones across it (where Broadstone gets its name).
We think you'll agree that they've done an awesome job and it looks fantastic!!
This new logo will be shown on all media including the Website, Facebook, Twitter, letters, leaflets, posters, and other items produced by the group.
We are also launching a new clothing range showing the new logo (through the Tesco Uniform Embroidery service). Initially we will offer a Group Polo Shirt but will expand this later in the year to include other great items.
To find out more about the clothing offers and to purchase your shirts please click here.