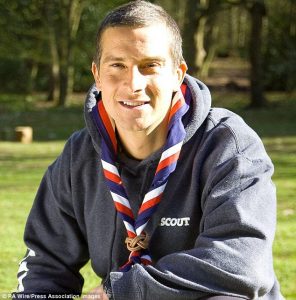 Adventurer, writer and television presenter Bear Grylls has agreed to stay on as Chief Scout at the Scout Association until 2020.
The organisation described Grylls as an "outstanding figurehead for Scouting" who has overseen of a period of "strong" membership growth.
Responding on Twitter, he said: "Thank u once again all u Scouts for inviting me to stay as your Chief. It is the greatest honour in my life to support & serve u all."
Grylls became the youngest ever Chief Scout when he took up the position in 2009.
Tim Kidd UK Chief Commissioner said: "By championing our values, improving public perception and inspiring our members, Bear has helped Scouting go from strength to strength, valued by parents and respected by the public at large, attracting more young people and adult volunteers.
"We thank Bear for his tireless support of our work, both locally and nationally."
Meanwhile, paralympic gold medallist Ellie Simmonds and Olympic gold medallist Helen Glover are going to help raise awareness of Scouting and helping young people develop life skills.
Completing a line-up of five new Scout Association ambassadors are television presenters Anita Rani and Steve Backshall, and adventurer Megan Hine.
Grylls said: "Like our other volunteers and supporters, they are incredible role models for young people, embodying our values and inspiring the next generation.
"Each of them brings their own unique skills and talents and I know will help shine a light on Scouting's amazing work. Thank you to each and every one".
From: https://www.premier.org.uk/News/UK/Bear-Grylls-to-stay-on-as-Chief-Scout-until-2020