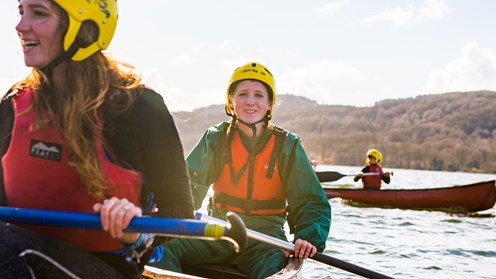 On the 15th May we launched our new strategy, Skills for Life, along with a vibrant new brand. Deputy UK Chief Commissioner Kester Sharpe explains how our focus on skills for life can help us attract more volunteers, and why we will continue to wear our World Scout Membership Badge with pride.
Some of you will have read Tim Kidd's informative blog in March 2018: How focusing on skills for life will make it easier to talk about Scouting. He explained how talking about skills for life (our key benefit) will help the public better understand what we do and make it more likely they will offer their support. However with the subsequent media coverage and speculation on social media, we wanted to clarify and answer some of the points raised.
As a member of the Project Board for our brand review, I wanted to share some more information with you. Here are ten things to know now that we've rolled out our new strategy and brand.
1. We haven't changed the World Scout Membership Badge
The World Scout Membership Badge that we wear on our uniform hasn't being reviewed or changed. It will continue to be worn by members of the Scouts in the UK. There are no changes to flags used locally, and we don't expect anyone to replace their uniform simply due to a logo update.
2. We consulted and tested the new brand with over 7,000 people across the UK
We rigorously tested our new brand with adults and young people. We spoke with Beavers, Cubs, Scouts, Explorers, Network members, Section Leaders, Group Scout Leaders, District, County and Regional Commissioners and other volunteers from across the nations, all of whom had the opportunity to provide feedback and who gave their broad support. When we spoke with members of the public who are not currently involved with Scouting, they said that they would be more likely to get involved based on materials using the new brand.
3. It will be easier to describe Scouting's benefits
The biggest and most important change going forwards will be our focus on skills for life. As a movement we will talk much more about the practical, employability and character skills we help young people in Scouting to develop. From our research we know this is the message that can help us attract the most amount of support as well as make us stand out from the crowd.
4. We now have a new, inspiring tone of voice
One of the best ways to communicate our brand is in the way we talk and through the words we use. We will now use language that is confident, active, optimistic, challenging and inclusive. Our guidelines will help everyone to communicate in a way that will help cut through the noise. You can find more guidance and support on the Scout brand centre.
 5. We now have a more contemporary visual identity that works online and in print
We reviewed our current 'swoosh' logo, which was introduced some 17 years ago, back in 2001. Locally and nationally, we found this difficult to use in print and online. It can't be used at a small size and isn't suitable to be used digitally, which is really limiting. However we are proud of our heritage and we want to retain the fleur de lis as the key symbol for Scouting. But we have now updated and modernised it for a digital age. It will make it easier to protect as our logo and be more recognisable as belonging just to UK Scouting (in a world where there are many versions of the fleur de lis).
 6. We have a free, highly accessible brand font
We know the movement struggled with the challenges of using the current Serif font, especially as it has to be paid for. We are now using a font that is free and highly accessible. Full details on how to get the new font are available on the new Scout brand centre. Having this font freely available means that you can easily create your own documents in our visual identity.
7. We have a new brand centre
A new range of easily customisable templates such as posters, flyers, banners and stationery are available on the new Scout brand centre. This launched on 15 May and is the place to find images, videos, logos, guidelines, MS Office templates and a local logo generator.
8. There are two years to make the changes locally and nationally
To minimise disruption and cost to local Scouting, we have until May 2020 to update our print and digital materials. Obviously some things will be easier to change than others and so we are suggesting this is done in a phased way. We are also arranging a special offer for meeting place signs on the Scout Brand Centre so you have an option to purchase or update these at a highly competitive rate. After 2020 we will have a much more coherent and consistent identity right across the UK.
9. The new brand supports volunteer recruitment
After seeing the proposals, 44% of parents of young people who are not currently involved in Scouting said that they were more likely to volunteer. This would be a huge boost to us locally. The new brand could also significantly support our aim to make Scouting as inclusive as possible. The testing suggests that parents from black and minority ethnic communities not currently involved would be 44% more likely to volunteer and 69% more likely to send their children to Scouts.  Young people aged 14-18 said they were a third more likely to join.
10. We are here to support you
We appreciate that change is never easy, but we are putting together the very best possible support to help you get up and running. There is supporting information and materials for all volunteers and opportunities for your specific questions to be answered over the coming weeks.
We must remember that we are a movement, not afraid to change with the times. Let's remember another thing that's not changing either: our values of integrity, respect, care, belief and cooperation. Let's continue to live those values, celebrate them and role model them to our young people. I'm immensely proud to be a member of both UK Scouting and the worldwide movement. Let's celebrate our rich heritage while looking to the future with optimism!