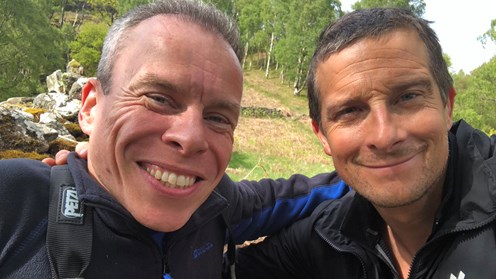 We are delighted to announce actor and director Warwick Davis as our newest Scout Ambassador!
Not only known to millions for his roles in numerous Hollywood films, including the hugely successful Star Wars and Harry Potter series, Warwick is also a well-known television personality, speaker and writer.
Warwick says Scouting had a hugely positive influence on him as a young person. 'I have really fond memories of being a Cub Scout,' says Warwick. 'I was particularly proud of being made a sixer' (one of the youth leadership roles in the Cub Pack). 'It was such a proud moment for me. I'm really happy now to encourage others to join, learn skills and have the same positive experience. I am grateful for what Scouting did for me.'
Leading up to his appointment, Warwick has worked with Chief Scout Bear Grylls on a television special, Bear's Mission with Warwick Davis, which is due to air at 9pm tonight (26 June) on ITV. You can watch a sneak preview of the show here.
Warwick will also be appearing on ITV's This Morning show at around 11am today.
A big welcome to Warwick! We're so excited and proud to welcome him to our Scout Ambassador Team, supporting us to encourage young people of all backgrounds to join Scouting, to feel part of the movement and develop skills for life.