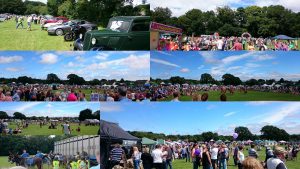 THANK YOU to everyone who supported us at the Broadstone Family Fun Day on Sunday 1st July.
It was a beautiful day and the sunshine brought the crowds out to spend their money. There were loads of activities and stalls, with a number of arena events as well not to mention donkey derby and dog show.
We raised a fantastic £303 from the sweet tombola, hook a duck and tattoos and we had a steady stream of
customers during the afternoon.
A huge vote of thanks to Fiona and the fund raising team who put so much time and hard work into making the
day such a success for the Scout Group. Thanks to those who came to help on the stalls, from Beavers to Scouts
and parents, and thank you also to everyone who contributed donations of sweets and chocolate.
Our next major fund-raising event will be running the car parking at Drusilla's Steam Fair on Saturday 18 th August.
If you are free to lend a hand for an hour or two please sign up to the event on OSM, indicating the times that you
might be available. This is a fantastic opportunity to see some of the steam engines that will feature in the Dorset
Steam Fair the following weekend.