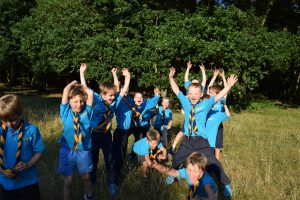 Following the successful re-opening of Brookdale Cub Pack and Brookdale Scout Troop last year, phase three of our development has resulted in the successful launch of Springdale Beaver Colony.
A group of 16 children have spent the last few weeks enjoying some wonderful evenings which have been arranged and run by a very keen and enthusiastic team of parents. They have experienced orienteering and played games on the Recreation Ground, they have learnt how to put up tents and are in the process of earning their cyclist badge, to name just a few of their fun-filled sessions. And the adults are enjoying it as much as the children!
On Friday 6th July, I had the pleasure of investing all the children as Beavers and formally welcoming them to be
part of Broadstone Scout Group. We spent the evening at Delph Woods where the Beavers made some fabulous
bug hotels before we held the investiture ceremony.
Broadstone is now a very large Scout group and it is fantastic that we have been able to reduce our waiting list
and offer the challenges of Scouting to even more young people in Broadstone. However, in order to remain
successful we need to continue recruiting enthusiastic volunteers to keep our units going. If you enjoy the
outdoors and would like to share the fun and adventure that our young people have, please do not hesitate to
contact me for an initial non-committal chat. We are currently particularly seeking volunteers to help out with
our Scout Troop on a Monday night. You don't need to be available every week, neither do you need any
previous experience.