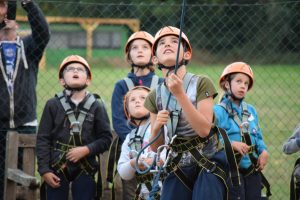 Not many groups can boast they have over 300 people come to their AGM, but we certainly can. AGMs don't need to be boring and as the photos show, they can be a lot of fun.
We invited whole families to come along and join in with trampolining, climbing, abseiling, high ropes, archery, field games, table football, air hockey, adventure trail, and more. We even provided hotdogs, teas, coffees and squash!
Whilst the young people were having fun, we invited the adults to join our GSL, Exec, and DC at the campfire circle to officiate, vote, and accept the accounts, minutes, and exec committee. We also used it as another way to attract more adult help for our 9 sections.
We are always in need of extra adult help, especially in one of our Scout Troops at the moment. If you can spare any time at all, please get in touch.