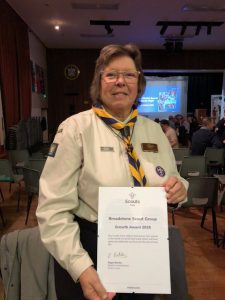 Last night saw the Poole Scout District Annual awards ceremony which saw many young people and adults recognised for their achievements.
Many Beavers, Cubs and Scouts from Broadstone and other groups were awarded their Chief Scout Bronze, Silver and Gold awards, recognising all the hard work they've put in to the various challenges that make up the Chief Scout awards.
However this year Broadstone were also recognised for the epic effort made in reducing (and almost completely clearing) our waiting list by opening up three new units. So alongside our six existing units we now have Springdale Beaver Colony, Brookdale Cub Pack, and Brookdale Scout Troop. This has enabled us to offer the awesome opportunities, fun and life skills offered by Scouting to many more Young People in our area.
Each new unit has new adult leaders, helpers, and young leaders, and we're incredibly grateful to each of them for giving up their time and skills for our young people. Without them none of this would be possible.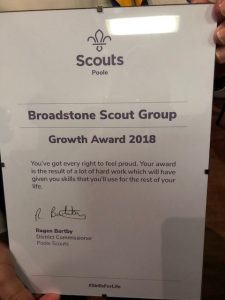 However none of this would have been possible without the vision, hard work, and perseverance of Gill, our Group Scout Leader and her team. She has spearheaded the whole project by working closely with regional and district development teams, bringing together the group, recruiting adult help, helping units get started, supporting new leaders, dealing with all the challenges…  and all this while still supporting the existing units!
So last night Sue (Beaver Scout Leader for Broadstone Colony) accepted the award for Growth on behalf of the Group in recognition of all this hard work!
Well done everyone!!