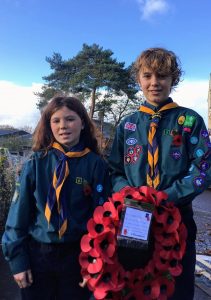 Broadstone Scout Group join others in Remembrance.
As in many other places today, members of Broadstone Scout Group joined with others from the local community to remember those who had given their lives in conflicts for our freedom.
A message from our Group Scout Leader…
"Just a short message to say thank you for your support at our Remembrance Day Parade this morning, to the young people, their parents, and to the leaders.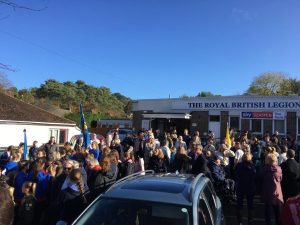 The turnout of the Beavers, Cubs, Scouts and Explorers was fantastic, once again.  They were extremely smart, well-behaved and they should all be extremely proud of themselves for representing Scouting so marvelously. It was a shame about the weather and I hope that it didn't cause too many problems for parents, to divert the Beavers and Cubs back to their final meeting point a little earlier in the parade. Thank you again – I was proud of you all!"
Scouts and Explorers from Broadstone and from 21st Bournemouth also supported the Royal British Legion's Poppy Appeal by helping to sell Poppies and other items at ASDA Castlepoint on Saturday. Each one did a fantastic job and we received many compliments from the public saying how smart they looked and how polite and helpful they were.  Well done everyone and we'll update you when we know how much we raised.