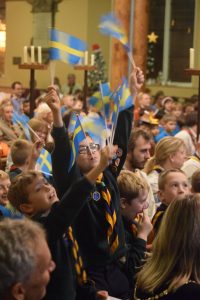 Gut Jul from all at Broadstone!
For those that are not fluent in the Swedish language, Gut Jul (pronounced Goooot Yule) means Happy Christmas! 🙂
So last night was the annual Poole District Carol Service and the theme was Christmas Around the World. Broadstone's country was Sweden and so while Gill read out some pieces about the Swedish Yuletide period our young people waved Swedish Flags and shouted "Gut Jul!" every time the name Sweden was mentioned.
As usual St. James church in Poole was packed out with young people, leaders, and parents and everyone thoroughly enjoyed it.