There are two sides to Broadstone Scout Group – the Young People and leaders who are the visible face; and the Group Executive – those working behind the scenes to keep the group going administratively.
Young Person Sections
The Young person sections are divided by age groups: 6-8 years for Beavers, 8-10 1/2 years for Cubs,10 1/2 to 14 years for Scouts, 14-18 years for Explorers, 18-25 years for Network. For more information about each section, follow the specific links in the menus.
The Group Exec
The Group Executive is the body that oversees the running of the Group and is the legal entity as far as the Charities Act is concerned. All decisions regarding finance and operations take place at the executive meetings once every three months.
The Group Executive Committee is responsible for…
Administration of the Groups Finance
Maintenance of the Groups Property and Equipment
Raising of Funds
Insurance of persons, property and equipment
Group Public Occasions
Assisting with the recruitment of Leaders and other adult support
The Groups Public Perception
The Support of the Leaders that run the Sections
The executive committee consists of the following members…
Chairman
Group Scout Leader (Uniformed)
Assistant Group Scout Leaders (Uniformed)
Secretary
Treasurer
Quartermaster
Parent representatives
Sub Committee Chairpersons
Section Leaders (Uniformed)
Also there are co-opted members who can bring particular skills to the group.
Our group structure…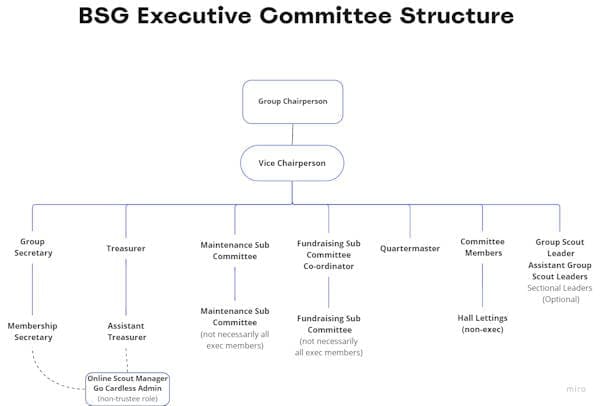 All members of the Group Executive are fully CRB (Police) checked even if they are not in direct contact with children.
We have an Annual General Meeting soon after our fiscal year end at which the Group presents its accounts to the membership. All members of the Group and parents are encouraged to attend this event.
There are presently 2 sub committees…
The Fundraising Committee looks to raise additional funds for the group by means of select events, these have included Quiz Nights, Plant Sales, Charity Auctions, Hikes and Supermarket Bag Packing to name but a few.
The Maintenance Committee looks to organise the maintenance of the facilities. This includes organising cleaning contracts, repairs and enhancements to the building.
A full description of the Group Executive Committee can be found on the UK Scout Web Site.
If anyone would like more information or would be interested in joining the Executive Committee or you wish to help out with the sub-committees please feel free to speak to your leader or contact the Group Executive Chairman for more information.
Group Admin
We regularly publish the Groups AGM and annual accounts. If you are interested, follow the link below: